Mr. Camille Moukarzel
President PCA
Friday 27 Nov Opening Panel Day 1
Speaker
CAMILLE F. MOUKARZEL
President Of The Board PCA.
After more than 30 years of extensive IT experience in different fields with various companies in Lebanon, I am currently occupying the following positions: President of ALMA - The Lebanese ICT Federation (الأتحاد اللبناني للمعلوماتية والأتصالات),President of PCA (Professional Computer Association of Lebanon) since 2016. Deputy Secretary General of ARISPA (الأتحاد العربي للأنترنت والأتصالات), Board Member of AICTU (Arab ICT Union) in Bahrain. Co-Founder and Partner in ITiology SAL,
Friday Day 1 Opening Ceremony Speech
Opening Ceremony Speech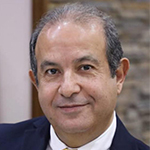 CAMILLE F. MOUKARZEL
President Of The Board PCA.